Kabak Beach, Fethiye
It is one of The Guardian's Top Ten beaches. When we went it was full of Turkish people enjoying their weekend and a bunch of happy hippies who gave it some real character. It's a surprisingly busy place but plenty of room to absorb the visitors. Warm sea and nice beach – can't wish for more.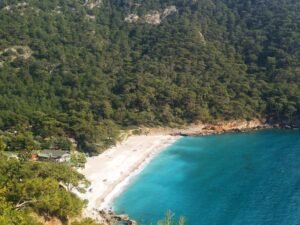 Mermerli Beach, Antalya
In Mermerli Beach, where you will feel the historical atmosphere of centuries, the deep blue world of the Mediterranean Sea and the magnificent view of Beydağları under your feet, you can have a unique Mediterranean experience.
Blue Lagoon, Ölüdeniz 
Ölüdeniz is a resort village on the southwest coast of Turkey. It's known for the blue lagoon of Ölüdeniz Tabiat Parkı and the wide, white Belcekız Beach. Overlooking the village is Babadağ mountain from where paragliders take to the skies. The Lycian Way is a long-distance marked footpath starting in Ölüdeniz, and has coastal views.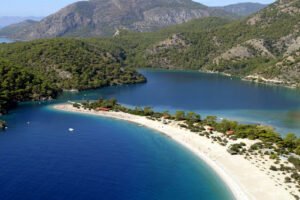 Icmeler Beach, Marmaris
Icmeler region has the most popular beach area in Marmaris.  Icmeler dazzles beachgoers with its fine golden sands. Icmeler, host a myriad of different water sports.
Patara Beach, Gelemiş 
Patara beach is one of the nature's most amazing works. you can have a unique experience to have a relaxing walk on the beach and swim in the sea accompanied by the views of the ancient city.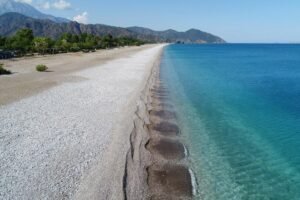 Cirali Beach, Cirali
Çıralı is a place where you can enjoy the clear sea of ​​the Mediterranean. Çıralı Beach has become one of the most visited places because of closeness to Olympos and Yanartaş.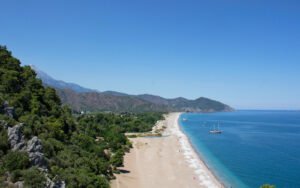 Kaputaş Beach, Kas
Kaputaş Beach is in a protected area.It is situated between Kas and Kalkan. Once you arrive, the picturesque view is enough to take your breath away. You will definitely want to stop here on your travels.
Cleopatra Beach, Alanya
This natural beach that is covered by rocks, it is famous with the story of Egypt Queen Cleopatra and Roman Emperor Antonius swam in here. Located right at the foot of Alanya Castle, this beach has perfect sea and sand.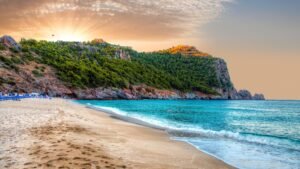 Butterfly Valley, Ölüdeniz
Butterfly Valley Turkey is one of the most attractive places in the surroundings of Fethiye. Butterfly Valley in Fethiye near famous Oludeniz Beach is one of the most magical and beautiful bays of Turkey.
İztuzu Beach, Dalyan
Iztuzu is the second most important site for endangered loggerheads in Turkey, and with its hinterland of briny lakes and reed-fringed river channels, arguably its most beautiful beach.