Erdogan said both Turkey and Egypt will expand the process to normalize their relations. "A new process has begun. As known, it was first launched by our intelligence organizations and followed by our foreign ministries. This process will continue to develop and expand," he continued.
A week after Erdogan's remarks, his government asked three Istanbul-based Egyptian TV channels linked to the Brotherhood to soften their critical political coverage of the Egyptian government, according to editors at the stations. The TV channels promptly stopped broadcasting some political programs.
Turkish Trade Minister Mehmet Mus said earlier this week that Ankara also wants to boost economic and trade ties with Cairo, which remains Turkey's biggest African trade partner, with a $4.86-billion-vlue in trade last year.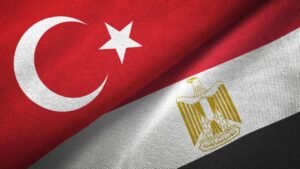 Egypt welcomed the move, calling it a "good initiative from the Turkish side that establishes a favorable atmosphere to discuss issues of dispute between the two nations."
Claudia Gazzini, a Libya expert at the International Crisis Group, said a possible Egypt-Turkey rapprochement would help stabilize Libya, which has recently become a theater of rivalry between regional and world powers.
"There is no doubt that if these two regional rivals find a way to work together, improve bilateral ties and commercial ties, this will reflect in pushing forward political stability in Libya," she said, according to The Associated Press.