To get a potential tax number, you should go to tax office. You can go any tax office. Go tax office with a professional.
The second step is identifying your company location. In Turkey for any type of corporation you need a legal address.
Selecting type of the corporation
Types of Companies are as follow; Joint-stock company (A.Ş.), Limited liability company (Ltd. Şti.), Commandite company, Collective company & Cooperative company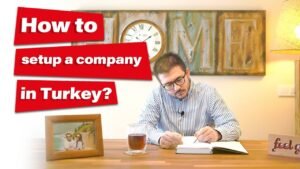 Starting to work with Accounting company
If you choose your business partner in Turkey first step is giving power of attorney on behalf of you. Therefore, accounting company can start establishment procedure
Registration of Company and Notary Again
Two or three days after applying trade registry maximum, registration complete. Your accountant takes the documents from trade office and meet you at the notary.
In Turkey if a shareholder of the company is foreigner and there is no Turkish manager, some of the banks demand residency papers from shareholders.
Start to get familiar with Turkish business environment
After establishing your company each month, you have to do same routines things therefore you should learn from your accountant.